Becky Hill is Engaged to her Boyfriend Charlie Gardner, Detail About their Relationship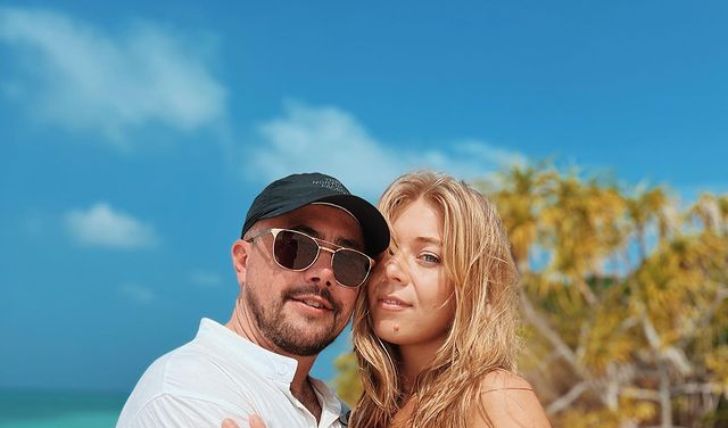 Becky Hill's relationship with Charlie Gardner: The couple announced their engagement.
British pop star Becky Hill reveals she is engaged to Charlie Gardner. The proposal took place while the happy couple was on an exotic vacation in the Maldives. Hill is best known as the semi-finalist of the fifth series of The Voice UK. She shot to fame with her single Gecko and became the only The Voice UK to have a UK number 1 song.
Born Rebecca Claire Hill on February 14, 1994, in Bewdley, Worcestershire, she and her now-fiance, Charlie, have been together for over six years. In April 2021, Becky came out as a member of the LGBTQ community and labeled herself as queer. "Turns out he does actually like me," the Brit wrote while announcing her engagement.
Becky Hill and Charlie Gardner's relationship!
Hill's longstanding relationship with Charlie is a known fact, but the singer has kept the romantic aspect of her life in the backseat. It was not until recently, as she announced her engagement with her beau, that people have started to take a keen interest in Becky's love life. But unlike the worldwide star and a social media-active Hill, Charlie prefers to keep things on the low.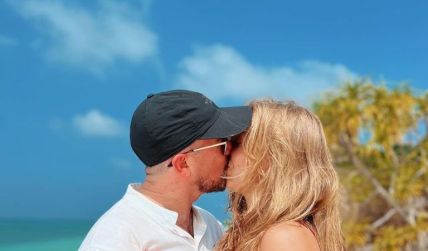 The couple got engaged while on vacation in the Maldives. Photo Source: Instagram
Gardner works in the even industry and is active on Instagram as @thatcharlieg, but the page doesn't provide insight into his personal life. Although the newly-engaged pair are planning the next move, a stunning wedding, in their relationship, it appears Becky and Charlie didn't have a smooth run.
Don't Miss: Who is Timothy Olyphant Wife? Learn About His Married Life Here!
In 2020, the Gecko singer revealed a bunch of her hitmakers was inspired by her rocky relationship with an ex-boyfriend. The string of songs includes her single Better Off Without You; I Could Get Used To This, Sunrise in the East. "Basically, it's about the last decade of my life," the Voice star had said. The singer later revealed she was back with her ex-boyfriend.
Becky and Charlie have been together for over six years. Source: The News
"As great as my relationship is now, it's fair to say it's been pretty rocky in the past, which has been the inspiration to a lot of my music," Becky said in an interview in 2020, giving fans a clear clue that the unnamed ex was no one but Charlie. In an exclusive conversation after her engagement, the Brit revealed she wants a full music event for the wedding.
Becky Hill and Charlie Gardner to have a music festival at their wedding!
For the couple's awaited wedding, the 27 years old singer is planning a ceremony that might as well be remembered as the event of the year. "We are having a festival, of course! We are going to have a sick festival with an acoustic tent, a dance tent, a pop tent," the Remember singer said.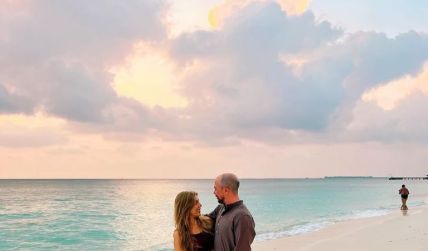 Hill is up for song of the year and best dance act at next month's Brits.
Photo Source: Instagram
Hill, who is nominated for the Song of the Year and Best Dance Act at next month's Brits, also revealed how she would like artists she has collaborated with to perform at her wedding. Hill has worked with David Guetta, Little Mix and Sigala, and more in her 10-years long career. Hill reportedly cried when Charlie popped the question to her. "Yes, I was like, Shut the f*** up!' It was mad. He drew a heart in the sand on a desert island," Hill revealed.
Recommended: Who is Bob Saget's Wife? The Stand-Up Comedian has Passed Away at 65.
Hill had come out as queer in April 2021. "ok, here it goes. I'm not 100% on this (still figuring myself out) but I *think* I'm queer! I've definitely felt uncomfortable branding myself as straight, or anything else for that matter, but queer seems to be the most fitting identity for who I am," Becky announced via Twitter. The singer has revealed how she finds traveling abroad hard because of the attitudes around her queerness.
For more information and news on your favorite stars, stay connected to glamour fame.
-->